Available: 24 Hours a day - 7 Days a Week - Holidays & Weekends.
Dale B. Daniels Trucking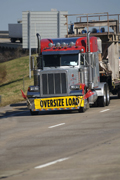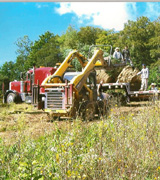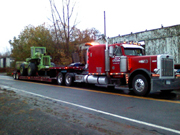 Our History
Dale B. Daniels Trucking was formed in 2004 by Julie Goossen & Dale Daniels.

They both have over 25 years experience in various areas of the transportation industry.

Julie started out in 1988 in the traffic department for Motts, Inc. in Williamson, NY. From there she went on to become Operations Manager for Ontario Midland Railroad in Sodus, NY. To add to her experience she worked as Freight Coordinator & Head Dispatcher for Superior Truck Lines. At Superior, she learned all of the good and bad in the trucking industry. Julie realized that the larger you became, the more difficult it was to keep the customersí needs in mind. She took a chance and opened up her own trucking company and freight brokerage.

Dale comes from a family of truckers. His father operated a small trucking company in the late 70ís and early 80ís. So Dale knows firsthand what it takes to keep the trucks going down the road. Dale works long hours to make sure the equipment is kept in top shape so the freight gets there when it needs to be. He is on call basically 24 hours a day, 7 days a week. When a customer calls and needs a truck, Dale, Julie or one of the other dedicated drivers will be there. It doesnít matter if itís a night, a weekend or a holiday, they will be there.

As you can see with their combined experience, Dale B. Daniels Trucking has the knowledge and experience needed to get the job done.

Give us a call for a rate quote for all of your shipping needs.
We also have our own permitting service that will work around the clock to route & permit your shipment the quickest and safest way possible.
Dale B. Daniels
2392 Route 414,
Clyde, NY 14433
Cell: 315-576-1292
Cell: 315-576-1290
Fax: 315-483-2407
Email: jkgoossen@aol.com